Wednesday's Child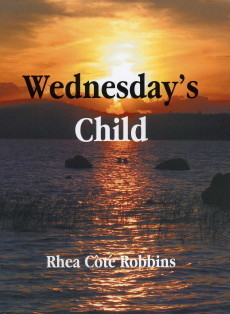 ---
Reviewers' Comments
Rhea Côté (Cote) Robbins' Wednesday's Child is beautiful stuff, a defiant and poignant memoir that transcends the personal. It is an important book not only for its immediate content, for the experience of life within its covers, but because it gives us a glimpse of the almost unmined Golconda of literary source material in Franco-American lives.--E. Annie Proulx
---
Wednesday's Child is a dark, dream-like meditation on fragility and survival, of the body from cancer and of the Franco-American community from its inheritance of paroissial piety, social marginality, and relentless poverty. If your roots are in that community, there is much to recognize and confirm; if not, there is much to learn and remember. --Clark Blaise
---
Against the more familiar observations of the small-town lifer and the urban refugee, Rhea Côté (Cote) Robbins' syncopations stood out, at once unique and connected to a vibrant and hardscrabble culture. This is a sensuous recollection made urgent by a pending medical diagnosis, and the result is an energetic, poignant, and revelatory memoir. ...Wednesday's Child is astir in every sentence.--Sven Birkerts
---
Rhea Côté (Cote) Robbins bring a strong, fresh voice to Maine Literature--honest, bright, true. She explores her rich, vital heritage with wisdom, humor, and unquenchable spirit.--Constance Hunting
---
Critiques, writings, quoted, excerpts etc.
see list below:
Based on the film Crash: The Migration and Settlement of Franco-Americans
in New England: "Survivance" of the Crash
By Lisa D. Helstrom
Colby College

---
Find us on Facebook
---
"Between Dream and Reality in Franco- America"
The French Review
May 2007, Volume 80, No. 6
This article explores the development of Francophone postcolonial cultures in the United States. It examines what it means to be French not simply in America but of America. There are some twenty million individuals of Francophone descent in North America today. People continue to live in French, linguistically and culturally, in the United States, yet Franco-Americans are virtually unknown. My study suggests that this phenomenon is related in part to the devaluation of French identity between Old World and New. Franco-American dreams and realities provide a different reading of America, its melting pot, m_tissage, race relations, and cultural identities.
Jonathan Gosnell, Ph.D.
Jonathan Gosnell teaches language and contemporary culture in the Department of French Studies at Smith College.

---

"Teaching Franco-Americans of the Northeast"
The French Review
May 2007, Volume 80, No. 6
This article argues that Franco-Americans should be incorporated into the Francophone curriculum and provides a select annotated bibliography of resources to facilitate that inclusion. [Listed in the bibliography of suggested texts.]
Susan Pinette, Ph.D.
University of Maine, Orono, ME

---

PRESENCE VISIBLE ET INVISIBLE DE LA LANGUE FRANÇAISE
DANS LA LITTERATURE FRANCO-AMERICAINE CONTEMPORAINE
Peggy Pacini
Université de la Sorbonne Paris IV
http://www.univ-rouen.fr/dyalang/glottopol/numero_9.html#sommaire

---

BORDER SPACES AND LA SURVIVANCE: THE EVOLUTION
OF THE FRANCO-AMERICAN NOVEL OF NEW ENGLAND (1875-2004)
By
CYNTHIA C. LEES
A DISSERTATION PRESENTED TO THE GRADUATE SCHOOL
OF THE UNIVERSITY OF FLORIDA IN PARTIAL FULFILLMENT
OF THE REQUIREMENTS FOR THE DEGREE OF
DOCTOR OF PHILOSOPHY
UNIVERSITY OF FLORIDA
2006

---
Ethnic Voices in Maine Literature
By Judy Hakola
University of Maine
http://dll.umaine.edu/welcome/wom/ethnic_voices.htm
---

Breaking Even--Always with a personality
Wednesday Writer's Spotlight--Rhea Côté Robbins
by Nicole Ouellette
http://breakingeven.typepad.com/my_weblog/2009/02/wednesday-writers-spotlight-rhea-c%C3%B4trobbins.html

---

Communicating Ethnic and Cultural Identity (Paperback)
by Mary Chuang, Rueyling Fong
Rowman & Littlefield Publishers, Inc.
Page 303
"Communicating Franco-American Ethnicity"
Kristin Langellier

---

Inside Peyton Place: The Life of Grace Metalious (Banner Book) by Emily Toth
1. from Back Matter:
"... for establishments called Peyton Place. One advertises "hot horny pussies." Most important on the Net are the sites developed by Rhea Cote Robbins, ..."
2. from Back Matter:
"... com/entertainment/tv/peyton place.shtml Robbins, Rhea Cote. "Franco American Women Writers and Editors." http://members.aol.com/RJCR/Francofemmes.html . "Grace Metalious Links. ..."
3. from Front Matter:
"... a superb introduction, showing the novel's grittiness and astonishing power as a story about love, death, honesty, and much more. Rhea Cote Robbins, ..."

---

The City Cultures ReaderáBy Malcolm Miles, Iain Borden, Tim Hall, Routledge Urban Readers Series, 2003
Lucy Lippard in 'Home in the Weeds', an extract from her book The Lure of the Local, p. 270

---

Culture and CommunicationáBy Edith Slembek
Frankfurt : Verlag für Interkulturelle Kommunikation
pages 192-3
Enthält Beitr., die auf dem 12. Internationalen Colloquium zur Mündlichen Kommunikation im Sommer 1990 an der Universität Lausanne/Schweiz gehalten wurden.

---

Turning Points in Qualitative Research: Tying Knots in a Handkerchief
By Dr Yvonna S Lincoln, Norman K. Denzin
Personal Narrative, Performance, Performativity: Two or Three Things I Know for Sure (Kristin M. Langellier)
Page 450
For example, Rhea, a breast cancer survivor who had a mastectomy and then had her mastectomy scar tattooed with a design of Victorian flowers, ...
Page 467
Robbins, Rhea Cote, Petrie, Lanette Landry, Langellier, Kristin M., and Slott, Kathryn, eds. / am Franco-American and Proud ...

---

Ethnicity and Family Therapy, Third Edition by Monica McGoldrick, Joe Giordano, and Nydia Garcia-Preto (Hardcover - Aug 18, 2005)
1. on Page 553:
"... ACKNOWLEDGMENTS Special thanks to Claudette Apicella, Rhea Côté-Robbins, Gilbert Domingue, John P. DuLong, and Françoise Paradis. We are also grateful to the many patients who, over the last ..."

---

The New England Cookbook: 350 Recipies from Town and Country, Land and Sea, Hearth and Home by Brooke Dojny, Harvard Common Press
Excerpt - page 52: "... " -Rhea Cote Robbins, Wednesday's Child (Excerpted from A Maine Writers' Cookbook, Maine Writers ..."

---

Canadians in America (In America) by Janice Hamilton, Lerner Publications
Excerpt - page 29: "... the routine of turning a farmer into a city slicker. -Rhea Côté Robbins, a Canadian American author describing her French Canadian ancestors in ..."
---

Governor's Mansion, Blaine House, Kiosk
On display January 14th to March 8th, 2002
as part of the Maine Products and Maine Arts Commission's
Arts in the Capitol Exhibits
See photos of event

---
*Quebec and Franco-America: a special issue in memory of Robert G. LeBlanc.
Guest editors Jane Moss and Debra Straussfogel
Québec Studies
Volume 33 - Spring/Summer 2002
Éloïse A. Brière
Langue d'écriture et transculture: le cas des francophones des Amériques
et
Rhea Côté Robbins
Wednesday's Child: Excerpts
---
*The River Review/La Revue rivière
A Multidisciplinary Journal of Arts and Ideas
Revue multidiscipline d'arts et d'idees
Poems by Rhea Côté Robbins
---
*Recent review in Maine-ly Women Wordsmiths, reprinted on Wolf Moon Press
by Laurie Meunier Graves.
---
*CBC, Zone Libre Interview with author
(online video/audio), aired in September, "Les Franco-Américains du Maine"

---

*Portland Magazine Archives
April, 1990
'Down the Plains' Three generations of Franco-American Women
by Rhea Côté (Cote) Robbins

---

*Critiqued in River Review/Revue Rivière, (ordering info) Number/numéro 5, 1999 by Mary Rice-DeFosse, "Resistance and Resilience in Wednesday's Child: The Franco-American Memories of a Maine Woman."

---
*Les Enfants du Mercredi
par Justin Collins
---
*Weaving the fabric spun in the home
by Judy Harrison Of the NEWS Staff
BANGOR DAILY NEWS (BANGOR, MAINE)
---
*"Notable" Maine Women Authors (Past and Present)!
---

*also, see "LE MILIEU, L'APPARTENANCE ET L'INTÉGRATION À LA SOCIÉTÉ AMÉRICAINE: La littérature comme outil de connaissance des Franco-Américains," par Eric Joly
---
Essays and Poems
by Rhea Cote Robbins